Exploring a science museum, attending a planetarium show, or touring a local research lab, STEM field trips are the ultimate way to excite students and connect classroom topics to the real world of STEM! Read on for our guide to planning a fun and educational trip based on our adventures in Space Club.
Tip 1: Field Trips are the Ultimate Incentive Award
In my after school Space Club program, field trips are integral to our success. On the first day, students sign a behavior contract that states they must meet certain expectations including 80% attendance to join a field trip. Many of my students have never left San Antonio, and they are beyond excited for these opportunities. Before our first trip to NASA, a student told me she had been cleaning homes with her mother for 3 months to save enough for the gift shop! (The next year I provided all students with a NASA souvenir in case they couldn't afford anything.) Since I can't give grades and there is a limit to candy bribes, field trips have proven to be the best method to keep kids coming back to the program every week.
Tip 2: Visit an Interactive STEM Museum or Challenger Center
Each year we visit the local Scobee Education Center and Planetarium. The graphic above shows students completing the Earth Odyssey Mission. Students act as NASA Mission Control Specialists and Astronauts in a simulated International Space Station. They conduct science experiences, build a mock satellite, and problem solve through emergencies to bring the astronauts back home safely. Students also watch two planetarium shows exploring the various spheres of the Earth and formation of stars. Teachers and students alike love this trip!
Scobee is part of a network of Challenger Centers located across the country. You can find the nearest location to you here. Challenger Centers were created in the aftermath of the Challenger accident of 1986 when the crew's families came together to carry on the spirit of their loved ones by continuing the Challenger crew's educational mission. According to the website, "Challenger Center and its global network of Challenger Learning Centers use space-themed simulated learning and role-playing strategies to help students bring their classroom studies to life and cultivate skills needed for future success, such as problem solving, critical thinking, communication and teamwork." Part of this crew was Sharon Christa McAuliffe, who become the first teacher to fly in space.
No Challenger Center in your area? Another option is the ever growing network of STEM museums. In San Antonio, we have the popular Doseum with interactive exhibits such as the Spy Academy, where kids use mathematical skills to solve missions. The museum also hosts summer STEM camps and educator training programs. Find a science center near you by searching the Association of Science - Technology Centers database here.
Tip 3: Create a Virtual Scavenger Hunt
For the last three years, Space Club has ended the year with a visit to NASA Space Center Houston. I highly recommend a trip to the home of Mission Control and astronaut training facilities. With constantly changing exhibits, students can touch a moon rock, listen to an astronaut, board the historic shuttle carrier aircraft, and so much more!
We split students into teams with a chaperone, and we allow them to explore NASA on their own. Students love the freedom to explore, but this leads to many varying experiences. One chaperone told me they just sat in the cafeteria during the last 2 hours because they had finished everything. Had they seen the iMAX show? No. Did they touch the Mars rock? No. Clearly something had to change.
Enter Goosechase. This app is the ultimate way to organize a scavenger hunt! The missions create team spirit, engage all members, add academic depth, and act as a guide to all the top exhibits. Read on to learn more.
Check out the gallery below to see how easy it is to organize a field trip scavenger hunt with GooseChase. Note that above a certain number of teams and missions, the account must be upgraded for a cost. Don't pay the regular fees if you are an educator! Learn more about it here.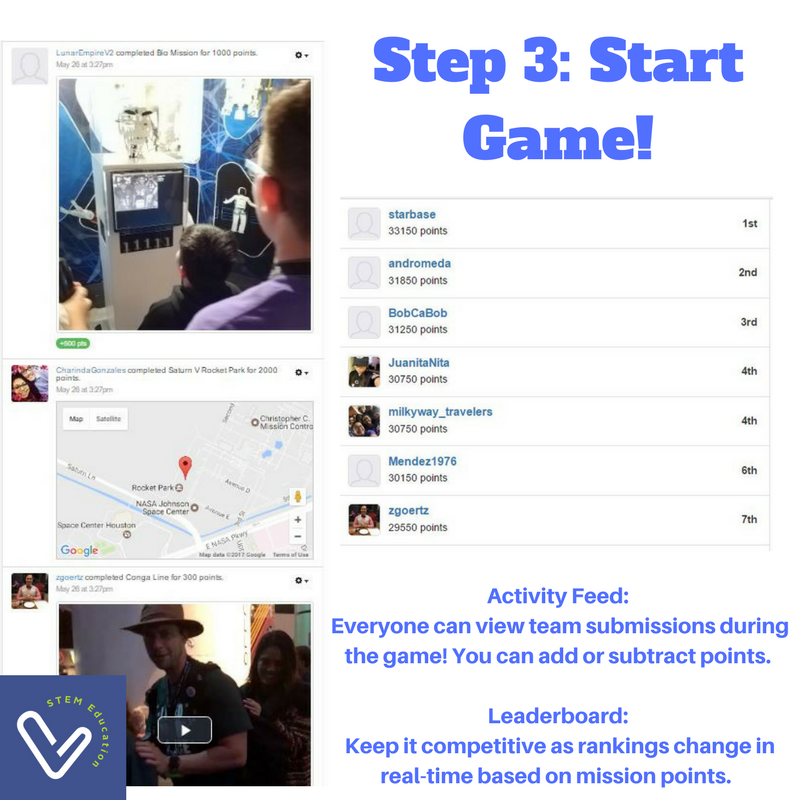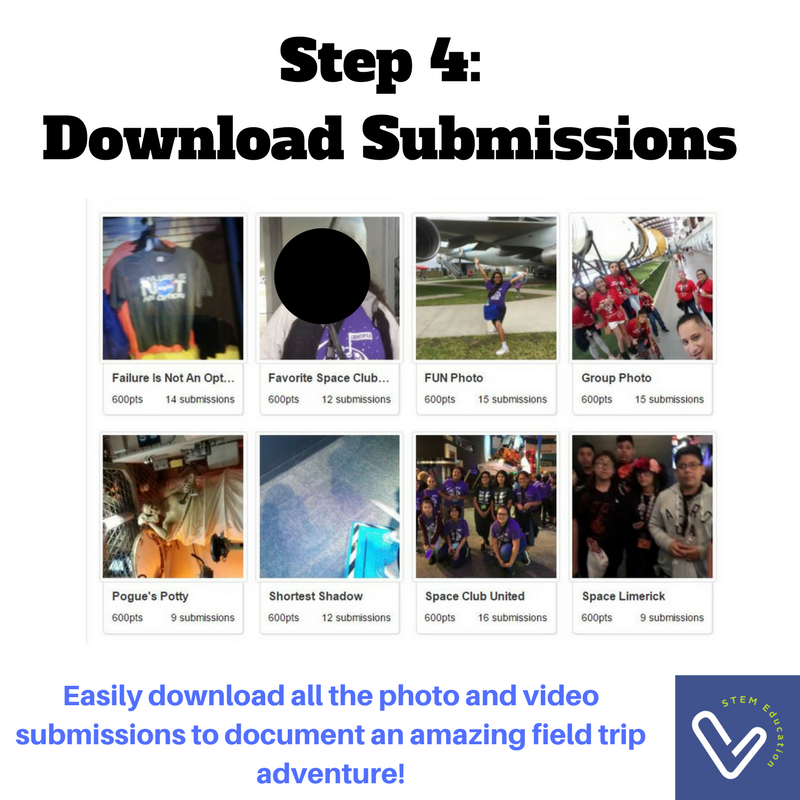 My favorite part is that you can download all the photo and video submissions at the end of the trip to document your adventure. Check out our highlights video below from our trip to NASA in May!
Tip 4: Connect to STEM Professionals
To upgrade your STEM field trip, connect students to local professionals in the area. Scientists and engineers may be able to provide a behind-the-scenes tour or inspire students to pursue exciting STEM careers. Professionals will add depth and meaning to your trip beyond what an interactive display can do. If visiting a business, facility, or lab, employees will be more than willing to take time to answer questions, give insight into their daily work life, or provide individual mentoring. If visiting a science museum or center, check nearby STEM companies that are related to your trip. At NASA, we invited two Boeing engineers to meet students in the cafeteria of Johnson Space Center. They gave an inspirational talk on their journey to engineering and working on the International Space Station. This interaction had a lasting impact on several students who now are considering a career in engineering!
Tip 5: No money? No problem!
Strapped for cash and your district is not willing to cover the cost? Most science centers and museums provide grants for visiting schools, especially for Title I. These grants go quick, so check early in the year! We received over $2,000 from the Scobee Center to cover admission costs, and NASA provided discounted tickets for visiting during off-season days. You can also explore general STEM Grants here and here.
We hope these tips help you plan your own amazing STEM adventure for your students! Feel free to comment below on your favorite STEM field trip locations and tips.
In addition to exploring STEM museums and centers, we recommend STEM challenges to keep your kids engaged during the long days of summer. Check out our Summer STEM Activity Calendar with daily math, science and engineering challenges for June through August! Adaptable to most elementary and middle school youth.